Boschman featured their new Sinterstar Mini a few weeks ago at the Applied Power Electronics Conference 2022 (APEC) in Houston.  The Sinterstar Mini is unique, versatile and ideal for R&D and prototyping.  This sintering solution offers a very compact design, quick and easy changeover and handles a wide variety of products.
NDC International represents Boschman Package Development in the Eastern United States.  Boschman – a family-owned Dutch company – was established in 1987 and is a leader in advanced packaging solutions.  They specialize in advanced transfer molding and sintering systems.
Sinterstar Mini is Fast, Flexible & Practical
New sintering technologies require proof of concept and prototype builds as part of product development processes before scaling to manufacturing volumes.  Boschman's Sinterstar Mini was designed to specifically address this need.  It was created as an affordable, entry system for silver sintering designed for small sintering trials.  As such it is ideal for R&D departments, universities, laboratories and small to medium-sized businesses.
This powerful system is ready for operation in just 45 minutes!  The changeover time is extraordinarily quick allowing you to easily run different products, processes and tests.
In addition the system sinters an impressive range of products including Die-to-Substrate, Die-to-Leadframe, Clips, Preforms and Package-to-Heatsink attach applications.  It can handle dimensions ranging from 2x2x0.01mm up to 100x100x80mm.
Outfitted with Advanced Technologies
Though "mini" by name this system is outfitted with the advanced technologies of Boschman's larger sintering systems.
Same intuitive user interface as the larger Sinterstar models, as well as the same application software.

Delivering maximum process monitoring and control including a fully programmable temperature profile.
Includes Boschman's Dynamic Pressure Control (DPC) patented technology to guarantee equal pressure on every single die despite assembly and material height tolerance (critical in Pressure Assisted Sintering.)

Ensures that the bond line is homogenous in thickness and density, thus ensuring superior performance and reliability.
Utilizing Boschman's patented Silicone-Free Dynamic Insert and N2 Technologies.
Sinterstar Mini Universal Base Tool Set
The system's Universal Base Tool set is a powerful feature that makes research and quick prototyping a breeze!  Pop in your dedicated inserts and alignment plates and you are ready to produce a unique product quickly and easily.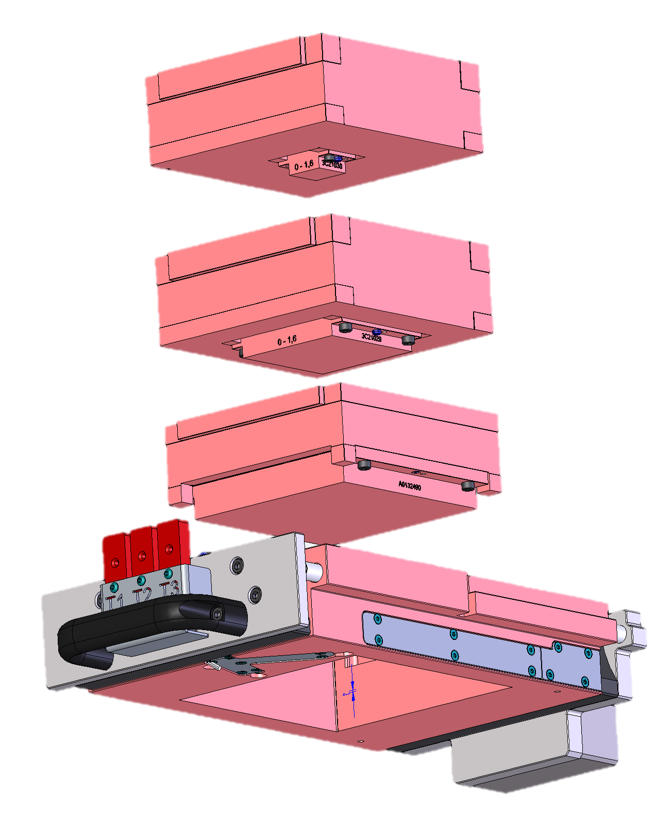 The Universal Base Tool consists of:
Base top tool for 1 dynamic Insert in a slide
Base bottom tool including product jig with N2 supply
Product height conversion set from 0,01-80 mm
1x film roll, 50um thickness, 120mm width, 100m length
3 standard dynamic insert units are separately available: 22x22mm, 66x66mm and 100x100mm
Robust Process Capabilities
The Sinterstar Mini uses the same application software as Boschman's larger systems including features like easy recipe set up and live process monitoring.  In addition, the system offers Micro Controlled Environment functionality allowing sintering of Cu area products.
Plus, you can now program a temperature profile with adjustable heating and cooling ramp (under N2) enabling the use of pressureless pastes.
Questions?  Call Don Johnson today at 215-355-2460!