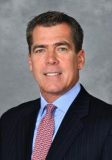 NDCI is pleased to welcome Ernest R. Burrell, III to its growing sales team.
Ernie Burrell is a seasoned sales executive with over 30 years' experience in the semi-conductor industry. Over the course of his career, Ernie has held various positions that included manufacturing support, process development, field installations and most notably sales.During his tenure with Kulicke & Soffa and Datacon, Ernie cultivated client relationships with Cree, IBM, St Jude, GE, Lockheed Martin and Hutchinson. His work resulted in two global sales awards and three regional sales awards demonstrating his ability to meet and exceed projected sales goals.
Ernie lives in Pennsylvania with his family (wife, 2 children, daughter-in-law and 2 grandchildren) and is an avid outdoorsman enjoying cycling, fishing and hunting in his spare time.