NDC is proud to represent HANMI Semiconductor – one of the top semiconductor equipment companies in the world.  We have enjoyed keeping you informed of their rapid and continual innovations in their award-winning micro SAW line which launched in 2021 and now offers 6 models.
Wafer micro SAW Innovation
HANMI showcased their latest micro SAW W1121α at the recent Semicon Korea Exhibition.  This full-automation micro SAW for wafer cutting is a standalone 12-inch model that cuts wafers attached to tapes.  In this innovative machine, HANMI has leveraged their 42-years of know-how in the semiconductor industry to create a product that delivers precision processing, vision and setting technology.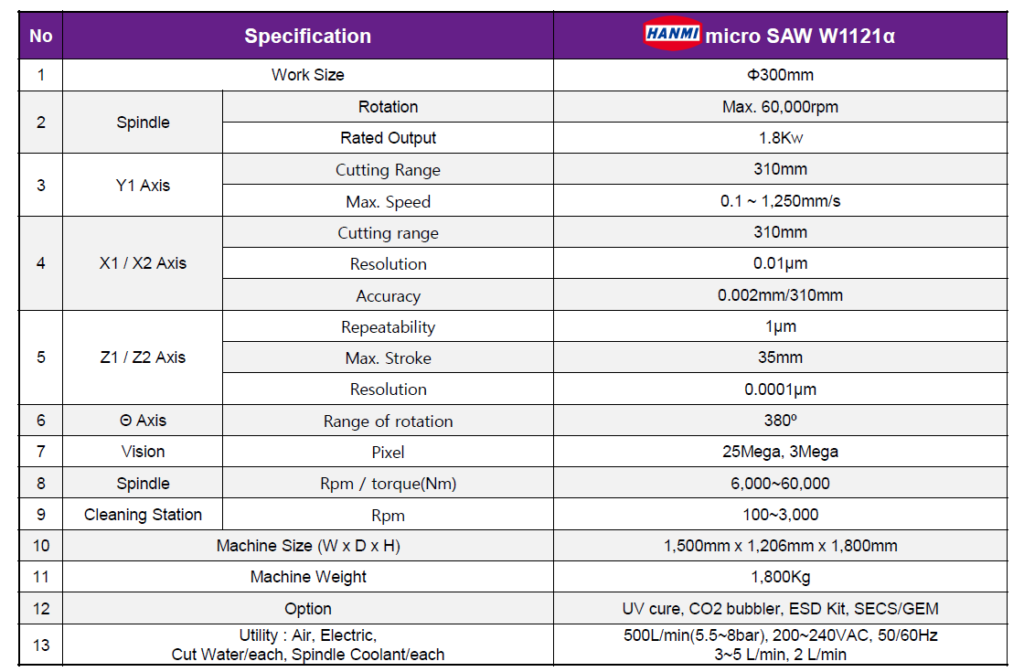 Maximized Productivity in Wafer Cutting
The micro SAW W1121α offers maximized productivity through active motion profile capabilities, optimized alignment and short cycle time.  The return speed of the chuck table is 1.25 m/second.  That's 25% faster than competitive machines.  This results in reduced cycle time for the sawing process (UPH Up) maximizing your productivity.
Super Precision Accuracy
The machine boasts superior accuracy and UPH, due to the ultra-fast and high-resolution camera it utilizes.  Combining bigger FOV and high-resolution camera inspection means there is no limit on package size and target size.  Plus using multiple channels of RGB LED light creates the best conditions for accuracy. (Sampling inspection function is under development.)  The system offers one single camera which can zoom in/out providing ease of maintenance and convenience.
Other accuracy features include:
Super Casting Iron
Intelligent Pattern Matching
Individual Cutting Path
Auto Jig Teaching
Post Cutting Alignment
Proven Stability in Wafer Cutting
The system also offers superior stability.  Features include all-around water detection, auto wafer flow optimization, auto strip protection and scrap water slide.
Other features include:
Smart Vacuum Pump
Intelligent Jig Teaching Calibration
Target Search Editor
Auto Vision Light Setting
 Ease of Use
When it comes to user convenience, the micro SAW W1121α has scores of features that set it above the pack.  The interface includes a rotational touch monitor that makes operation easy – especially when changing blades and settings.  Graphic recipe management and one-touch auto setting for the BBD/NCS sensor add to user convenience.  Cutting sequence visualization simulates the cutting line step-by-step improving accuracy and allowing you to predict productivity.  Plus more features like:
Auto Dressing
Auto Search & Write
Individual Velocity Control
Drag & Drop
8 Channels
Clipboard
HANMI is offering a 2-year warranty on all micro SAW equipment!  This is unheard of in the industry and demonstrates their complete confidence in the line.
Contact Don Johnson at (215) 355-2460 to learn more!