Since 2014 when Boschman was first to market with their manual industrial sinter platform – the Sinterstar Innovate-F-XL – it has been exciting to watch this company with its HQ in the Netherlands grow as a leader in their field. NDC International is proud to represent Boschman Advanced Packaging Technologies in the Eastern United States. Boschman is an international high-tech company established in 1987 that specializes in advanced transfer molding and sintering systems.
The Rise of Sintering Technology
As electronic devices become smaller, operate at higher power densities and higher temperatures, new technologies have been required to meet demands for devices with greater reliability and longer life.  Sintering has been the solution. Silver sintering is now a proven die attach technology that offers void-free, strong bonding with high thermal and electrical conductivity. The sinter bonding improves both the performance and longevity of your device when compared with traditional solder methods.
Boschman Sintering Technologies – Advantages
As a market leader, Boschman offers the advantage of their years of experience and depth of knowledge resulting from supporting many customers with solutions for a range of applications. Their Ag-Sintering technology offers the following essential advantages:
Closed-loop precise pressure control and monitoring.
Pressure applied only to required areas.
Guaranteed equal pressure for multi-die applications due to the patented silicone-free, Dynamic Insert Technology (DIT).
Extremely long lifetime of tooling resulting in very low running costs.
High-density tools with interspaces down to 400µm.
Largest available effective sinter area of 350x270mm, providing a high UPH.
Supports a large range of geometries, including clips.
Boschman offers inline and stand-alone systems to cover a wide range of production needs.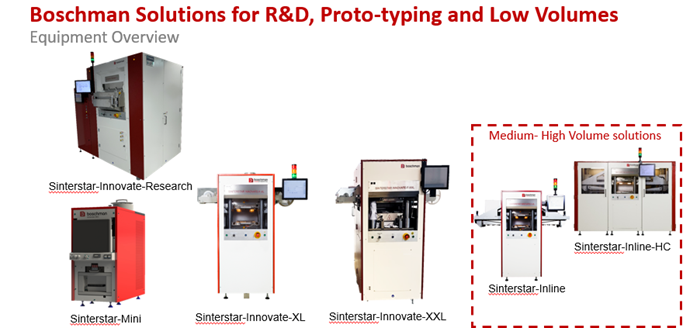 Low-Volume & Prototyping Sintering Technologies
For R&D and low-volume production Boschman offers the Semi-Automatic Sinterstar Innovate series.  Perfect for universities, laboratories and R&D departments looking for an affordable entry system designed for small sintering trials.
Ready for operation in under 45 minutes! Allowing you to easily run different processes, products and tests.
Sinters a wide range of different devices including SiC die, IGBT, diodes, GaN die, thermistors, LEDs, power devices QFN, clip/heatsinks, thyristor and custom designed power module devices to coolers.
Offers a large sinter area of 350 x 270 mm.
Medium to High-Volume Sintering Technologies
For efficient, high-quality medium to high volume production, Boschman has both the Sinterstar Auto and the Inline series.  These fully-automatic systems offer the absolute best throughput on the market!
Capable of sintering a huge range of devices equal to what can run on the Innovate systems, process can be 1 to 1 transferred to the production solution.
Offers a large sinter area of 350×270 mm.
Precise process-control and monitoring, logging large numbers of key parameters to auto-control the quality with pre-set upper and lower control levels.
Can be equipped with a wide variety of sintering tool concepts.
Outfitted with Advanced Technologies
All Boschman sintering systems utilize an intuitive user interface and advanced application software. They deliver maximum process monitoring and control including a fully programmable temperature profile.  Plus, Boschman's Dynamic Pressure Control (DPC) patented technology guarantees equal pressure on every single die despite assembly and material height tolerance (critical in Pressure Assisted Sintering).
NEW Dual Dynamic Insert Control:  Boschman's new Dual Dynamic Insert Control provides both individual and independent pressure control for situations where different pressures are required within one sinter tool. Examples include:
Large Differences in Size: NTCs, Studs, Spacers, Large Dies
Pressure Sensitive / Fragile Components (like NTC, clips)
Programmed Differences in Activation Timing
The patented Boschman Dynamic Pressure Concept is uniquely capable of changing and controlling sinter pressures and/or timing between different component types. This ensures that the bond line is homogenous in thickness and density – ensuring superior performance and reliability.
In addition, you benefit from Boschman's patented Silicone-Free Dynamic Insert and N2 Technologies.
Questions? Call Kevin Hartsoe or Don Johnson today at 215-355-2460!